pim's system management services help you achieve maximum computer-system productivity while reducing the burden of day-to-day IT management.
pim's system management solutions addresses these important technology concerns: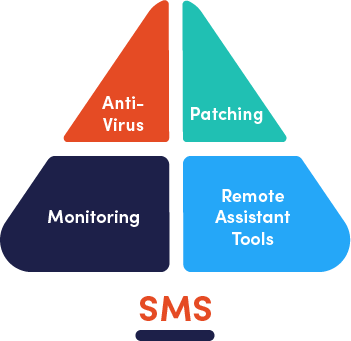 why system management services?
System Management Services (SMS) is one of the many layers of security to:
Guard against cyber threats
protect critical data
support business continuity
what does sms do for you?
Proactively manages network devices to identify and resolve issues and maximize system availability
Provides a single screen display for efficient system management and troubleshooting
Reduces management cost by eliminating the need to buy and maintain multiple software packages
Utilizes secure remote support access during troubleshooting efforts

Retains historical system information to quickly identify problems
Reduces IT support costs and operational downtime due to system outages
more on sms
pim's System Management Services (SMS) is a turnkey maintenance solution to protect assets, decrease system downtime, and reduce overall service costs. Routine system maintenance improves system performance, productivity, and extends the life of your equipment. With affordable system protection plans, routine system maintenance reduces the risk of unauthorized access to your system and company-sensitive data.

Our SMS includes SOPHOS Managed Threat Response which not only notifies you of threats, but also takes targeted actions to neutralize even the most sophisticated threats. SOPHOS MTR includes:

Advanced threat hunting, detection, and response capabilities
A 24/7 Response team that acts remotely to contain and neutralize threats
Top-rated machine learning working in combination with a teach of highly-trained experts
Complete Transparency and Control
Enhanced Telemetry
Dedicated Threat Response Lead
Direct Call-In Support
Asset Discovery